Contents •••
12. Additional contents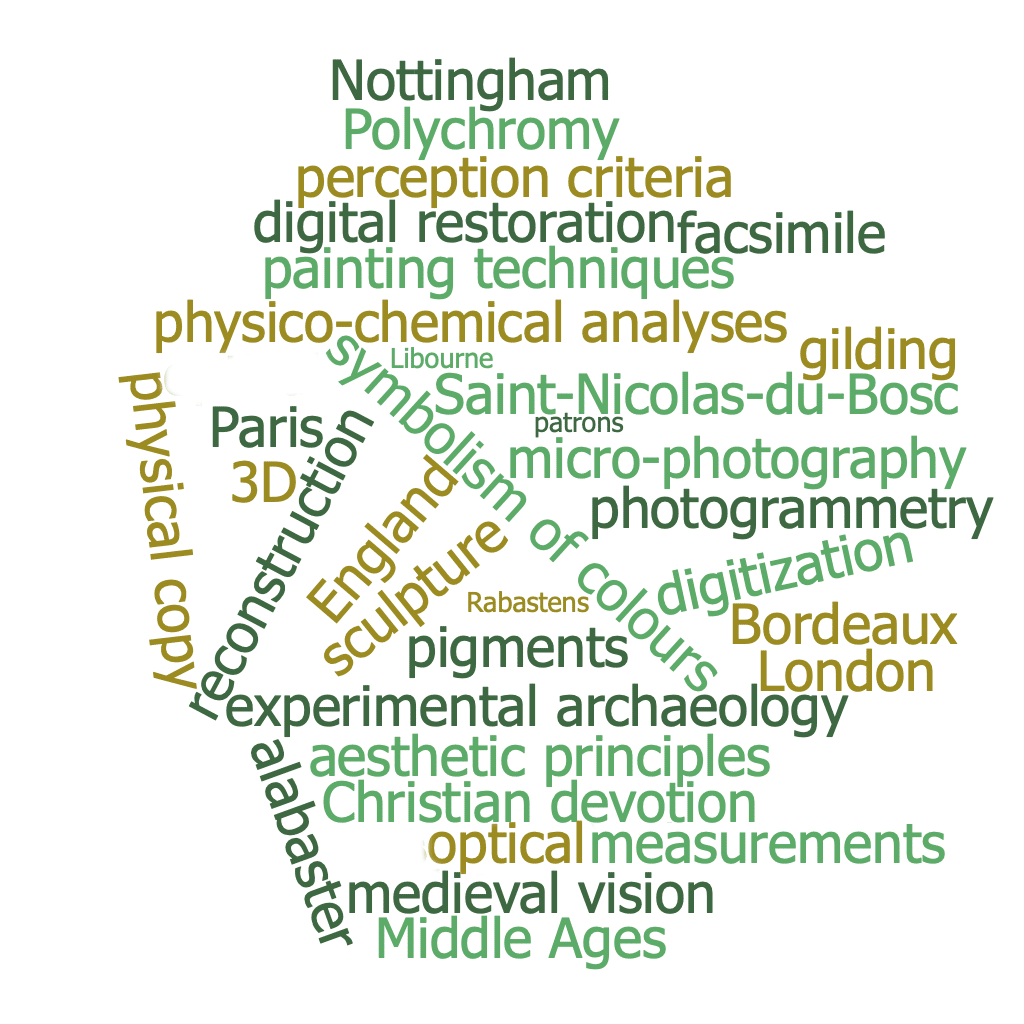 Abstract
•••
Between c. 1350 and 1550, English sculptors carved thousands of panels depicting religious scenes from alabaster quarries around Nottingham. Exported throughout Europe, these polychrome reliefs were originally often assembled to form altarpieces. Their coloured epidermis, an integral part of these artworks, has now often disappeared.
A multidisciplinary team (art historian, archaeologist, artist specializing in ancient polychromies, 3D engineers and optodigital researcher) has analyzed and reconstructed the polychromy of several of these English panels preserved in the Bordeaux region. The physico-chemical analyses permitted to determine the nature of the materials employed and to recreate the paints used by the painters. These data served to produce an alabaster facsimile as well as three 3D models with their digital polychromy.
As the polychromy of English alabasters is highly standardized, these examples can be considered representative of the aspect that the vast majority of the panels must have shown. The study thus allows us to address broader themes, such as the aesthetic and symbolic qualities of the colours used by the alabastermen, or the way in which the polychromy was perceived by the medieval viewer.
Résumé
•••
Entre 1350 et 1550 environ, des sculpteurs anglais ont taillé dans l'albâtre issu des carrières des environs de Nottingham des milliers de panneaux figurant des scènes religieuses. Exportés dans tout l'Europe, ces reliefs polychromes étaient à l'origine souvent assemblés pour former des retables d'autel. Leur épiderme coloré, partie intégrante de ces œuvres, a aujourd'hui souvent disparu.
Une équipe pluridisciplinaire (historien de l'art, archéomètre, artiste et spécialiste des polychromies anciennes, ingénieurs 3D et chercher en opto-numérique) a analysé et restitué la polychromie de plusieurs de ces panneaux anglais conservés dans la région bordelaise. Les analyses physico-chimiques ont permis de déterminer la nature des matériaux utilisés et de recréer les peintures utilisées par les albâtriers. Ces données ont servi à élaborer un facsimilé en albâtre ainsi que trois modèles 3D revêtus de leur polychromie numérique.
La polychromie des panneaux anglais étant fortement standardisée, ces exemples peuvent être considérés comme représentatifs de l'aspect que devait revêtir la très grande majorité de la production sculptée anglaise. L'étude permet ainsi d'aborder des thèmes plus larges, comme les qualités esthétiques et symboliques des couleurs utilisées par les albâtriers, ou encore la façon dont celles-ci ont été perçues par le spectateur médiéval.
The publication of the English version of this book was made possible thanks to the financial support of the University of Bordeaux Montaigne, its Ausonius and ArchéoSciences Research Institutes, the Federation of archaeological sciences of Bordeaux and the Archaeological sciences department of Bordeaux University.